POTEY Planter Ceramic Plant Flower Pot - 5" Large Indoor Glazed Container Bonsai with Drainage Hole Saucer - Large Space,
Save

Liquid error (product-badge line 32): -Infinity

%
[PREMIUM MATERIAL] These ceramic pots can tolerate extreme temperatures because they are high-temperature fired stoneware. Designed to love and last, made of durable ceramic,especial design will make your balcony and living room more concise, bright and full of artistic sense. Great for decorate windowsill, tabletop, shelf, bedroom, kitchen, garden, and outdoor patio. A high-gloss finish completes the design and gives off an appealing shine.
[DRAIN HOLE AND SAUCER] Comes with a drain hole at the bottom and a removable saucer. Drainage hole prevents the flower pot from overwatering, promoting plant health, to help your plants thrive, for plants that require heavy watering or advanced drainage, Keep your plants healthy and happy. Saucer base for catching excess water without drips on the floor. The tray works well tor keep your table clean.
Product description
Color:White

◆◆◆Good Mood◆◆◆
● Several new planters not only are plants aesthetically pleasing in your space, but they have health benefits,
● Such as reducing carbon dioxide levels in your home and making people feel happier and more relaxed.

● Even if it's cold and wet outside, a few beautiful plants and plant pots will mean it's always summer, somewhere in your home.
● Plants can create a feeling of peace, and caring for them helps us slow down and appreciate the here and now.
● Our pots and plants help you bring new colors and textures into your home for nature-inspired updates.

◆◆◆»How to Plant«◆◆◆
-Add mash circle to the bottom.
-Layer the bottom with small pebbles
-Add soil
-Insert succulent
-Top with decorative pebbles (optional)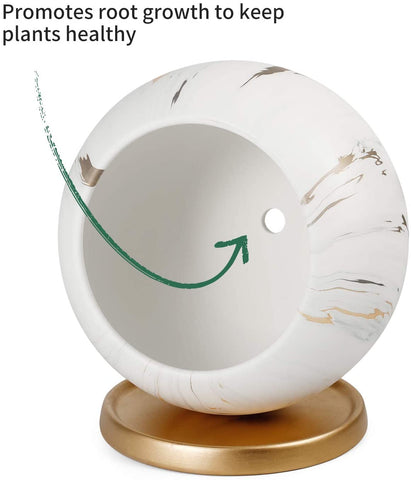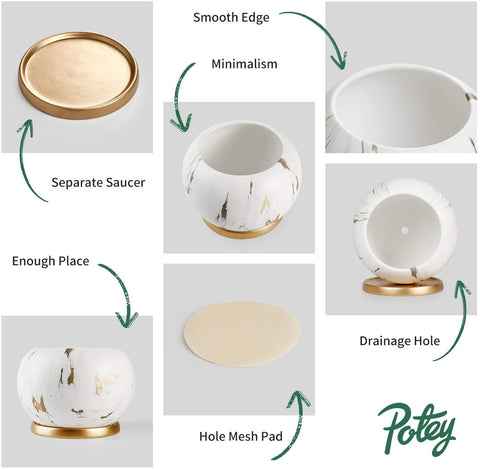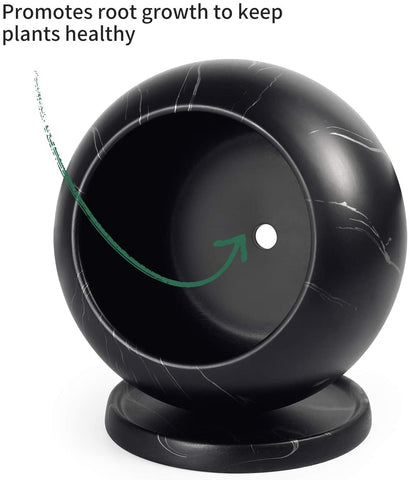 ◆◆◆Advantage◆◆◆
❤This ceramic pot acts as insulation for the roots to protect against temperature changes
❤Ceramic pots will typically be constructed with light-colored clay and then finished with a glaze before being kiln fired.
❤The ceramic pots are baked in high temperature, which ensures the hardness and strength of our products. Clean surface, easy cleaning when you wash them
❤Ceramic pots are a great way to add a fun and decorative look to your garden, patio, or even inside your home while providing a safe home for your plants to grow.

◆◆◆Tips◆◆◆
※Plants not included. Grow and display your favorite plants with this simple flower pot, or use one as a decorative item for any empty corner of a shelf.