Drain Backflow Preventer, One Way Valve for Pipes Tubes in Toilet Bathroom Floor Drain Seal Keep Out Smell,Silicone
Save

Liquid error (product-badge line 32): -Infinity

%
APPLICATION RANGE- This item can be used with floor drain of the shower room and basement, effectively block backflow and odor in the sewer.

PRACTICAL FUNCTIONS- The floor drain filter with the automatic closing design, seal stinky smell and odor from sewage gas; Prevent the drain water from backing up to the room; Anti- water leakage and overflow.

WIDE APPLICATION- As sewer is connected with the underground septic tank, sewag, or other air may enter room from smelly drain. Floor drain seal with closing mouth can be used in floor drain universal for most of American families. Necessary for every family.

PREMIUM DESIGN - The body of the grate seal is designed in v-cup shape, ensuring the smooth draining and water flowrate; folding winkles between the binding, increase the tightness and compactness.

ENVIRONMENTAL CONCEPT- The shower drain seal is made of good quality silicone, totally environmental-friendly material; No smell; Protecting your family health; No worry about deformation after stretching, super flexible; Ever-lasting and durable.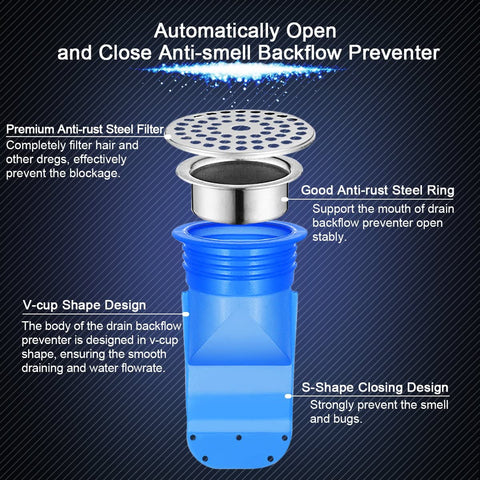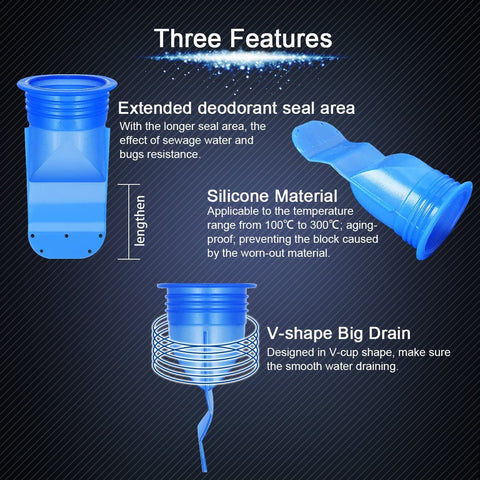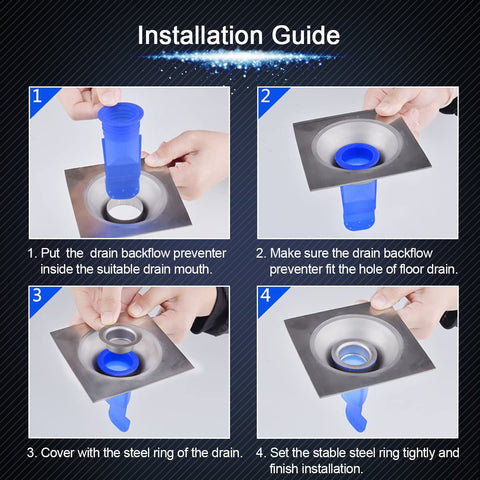 Product description
Color:Blue
The trap drain is made of durable silicone. The body shape is V-cup. The mouth of the shower tube filter can open and close automatically under the effect of the water gravity, guarante both the draining and the guard function against smell and sewage gas. Of course, the speed of draining will be slower than those without using the trap drain. Considering the binding part is dipped in oil and dirty sewage, the binding of tub grate is designed with folding winkles, increasing its stickness and unite. Successfully solved the problem of the separation.

This grate seal can stop the drain smell. Stop the sewage from the pipeline through the floor drain.

No More Backflow Smart V-shape draining system and closing bottom design, really a one way valve for water.

When is draining, the grate seal will open automatically under the effect of the gravity. This trap guard is designed in V-cup shape, water can go out smoothly.

After draining, the drain flies will close automatically.

Installation guide:

1. Please measure precisely the internal diameter of the drain mouth, in case any inconvenience brought by unmatched size

2. Measure the depth of the tube

3. Install the floor drain one way valve

4. Because the stickiness and softness feature of silicone, make sure support apart the mouth of drain grate with your hands in the first installation for the smooth draining

What is In the Box:

2* Silicone Drain Backflow Preventer

2* Anti-rust steel filter

2* Stable steel ring

Size:50*92*42mm
Weight:28g